BM-80

Barrier for Vehicle Access

MANUAL Operation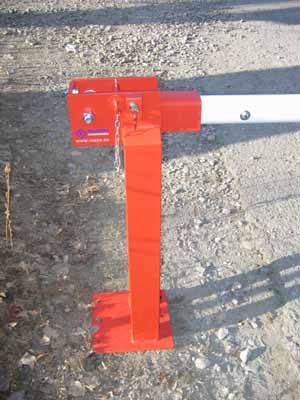 Economic Manual Barriers for Vehicle Access BM80)
Mechanical manual barriers are used in all applications where low cost is required to control car traffic, do not require electrical power and the opening / closing is done manually:
Security Companies.
Public and private parking.
Gas Stations.
Construction companies, Public Works, Quarries, etc.
Supermarkets, shopping centers, etc.
Camp sites.
Seaports.
Rural installations, forest roads, natural parks, etc.
BM80 Access barrier is simple, inexpensive and easy to install or uninstall if moved to another location. Maps Informàtica Industrial adds a new product to our portfolio for control and traffic management.

Economic Manual Barriers for Vehicle Access BM80)
Design
This barrier has been designed by our R&D department, leveraging our long experience (since 1970) in the industrial automation sector, and is prepared to work 24 hours/day, 365 days/year under the toughest and adverse working conditions. Its manufacturing features make it ideal to operate either outdoors or indoors.
Cutting Edge Technology
The use of materials with low maintenance, a simple and effective mechanical design provides our manual barriers unrivaled performance in terms of long-term durability and almost no maintenance.
Mast Length
A single version for manual access barrier. It supports any pole to a maximum length of 6 meters.
Price / Quality
Simple and robust mechanics, the use of standard materials, and a high rate of satisfaction of our customers, allows us to offer our manual barriers with full guarantees. Maps offers a robust solution for vehicle access, which may be considered a cheap control access compared to other devices available in the market. The use of high quality standard materials and anti-corrosion treatments guarantees long life for the equipment.
Security
Manual mechanical barriers manufactured by MAPS, have a latch as standard, which ensures fixing mast in one of the two possible positions of the barrier. The extraction of the latch is done by key to prevent handling by unauthorized personnel.
Technical Specifications
Mechanical assembly comprising:
Tubular steel frame with anticorrosion protection for outdoor use.
Spring / damper that minimizes the effort for opening / closing the barrier.
Latch to lock mechanically in the extreme positions the mast of the barrier.
Key for fixing the latch.

Enameled aluminum white mast tube with reflective strips on both sides (up to 6 meters long).
Support mast end (optional).
No electrical power.
No maintenance, easy installation.
Approximate weight: 36 Kg.
Low Cost.
Main Customers
Explotación y gestión de Aparcamientos.
Security companies.
Construction companies.
Camping.
Gas Stations.
Supermarkets, shopping centers, etc.
Camp sites.
Seaports.
Rural installations, forest roads, natural parks, equestrian facilities etc.
Function
Model
Specifications
AUTOMATIC BARRIER for VEHICLE ACCESS
CT70-850
Automatic barrier, for vwehicle access: The barrier is designed to work 24 hours/day and 365 days/year, under harsh working conditions. Their construction characteristics make it ideal for work either outdoors or indoors.

VEHICLE DETECTION




Inductive loop Controller

CB1PR
Inductive Loop Controller, for vehicle detection: CB1PR vehicles detector is reliable, robust, economical and easy to install. Detects the presence or transit of vehicles passing over inductive loops buried in the pavement.
PHOTOCELL (IP54)
M138x
Throughbeam Photocell: Photocell MAPS-138x consists of two modules, one transmitter and one receiver which operate using a modulated beam of infrared light pulse, it works from 1m to 15m, in any ambient lighting, even sunlight, without any previous setting.