CFL3816

ETHERNET / USB Controller

Remote Access to RS232

Remote Access to Digital I/O
Ethernet / USB communications with CFL-3816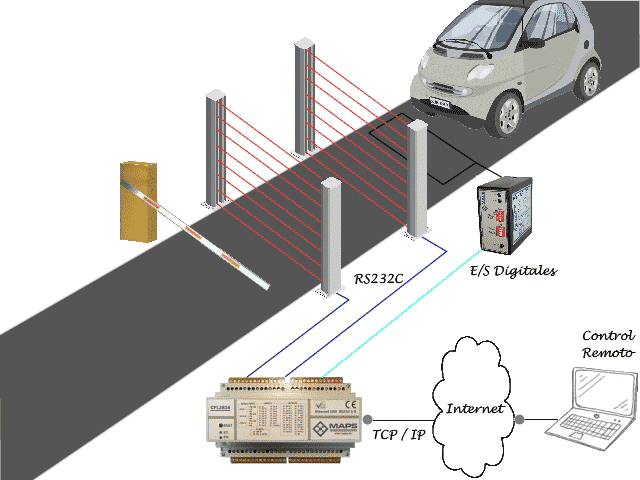 MAPS CFL3816 is a device that allows to connect:
3x RS232 serial channels
16x Digial inputs with free potenctial
8x Relay Digital Output
Communication with the device allows to send and receive data from 3 serial channels, to monitorize the state of 16 digital input and 8 digital output and to modify the state of the digital outputs.
Communications with HOST:
Local Control: USB (virtual comm port).
Remote Control: Ethernet, TCP protocol.
MAPS CFL-3816 Remote Peripheral Controller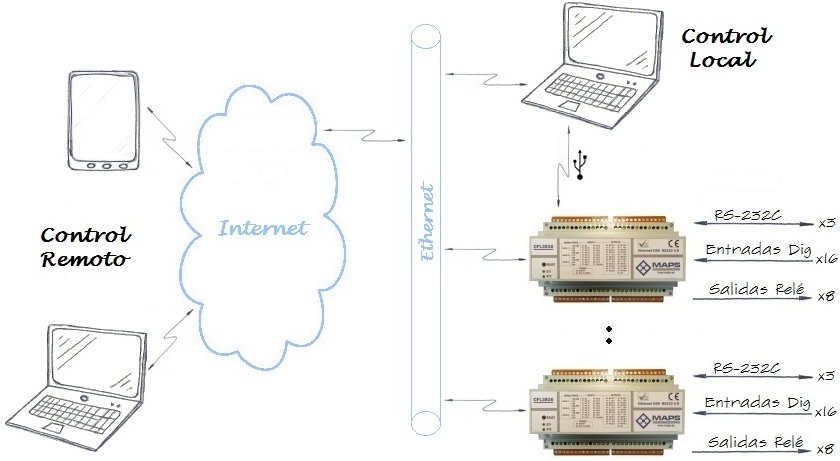 MAPS CFL3816 ethernet controller allows to control and monitorize field electronic equipment from the office, or from any smartphone, the only requirement is an ethernet facility.
Maps CFL3816 device is easily installed, it only requires a power source and an ethernet connexion.
Allows to start up / monitorize / control remote devices with digital I/O and RS232 serial channels.
Allows communication between RS232 equipment and other devices that have only ethernet connectivity.
Allows to control and monitorize digital input / output, totally isolated.
It is ideal for monitoring remote field devices in industrial applications:
Connectivity to devices with RS232 (x3) serial connexions.
Events logging / monitorization with the x16 optoisolated digital inputs.
Remote equipment control / monitorization by the x8 relay digital outputs.
And easy to use at home automation applications:
To turn ON /OFF heating / cooling from the smartphone.
Open / close electric blinds in remote homes. li>
Connection of any device such as lights, awnings, pet feeders, etc. li>
Specifications
Power
9VCC .. 30VCC / 8W
Installation
Rail DIN
RS232 isolation
3000V
Digital input isolation
3000V
RS232 Serial channels
3 (setting from 9600bps to 115200bps)
Digital Input
16 (free potential)
Digital Output (relay)
8 (max. 240VCA 1A)
External Connexions
Detachable Terminals
Led status indicators
I/O & RS232
Ethernet communications
10/100Mbps
Number of server sockets
2 (wep & settings)
Number of client sockets
5 (generic, I/O, serial 1, serial 2 & serial 3)
USB Comunications
Virtual comm port setting from 9600bps to 115200bps (Plug & Play)
Working Temperature
-20ºC .. 75ºC
Settings
Web page and desktop application (Windows XP/Vista/7)
Information and software download for the equipment.