VISIOMAPS

Inspection System

Computer Vision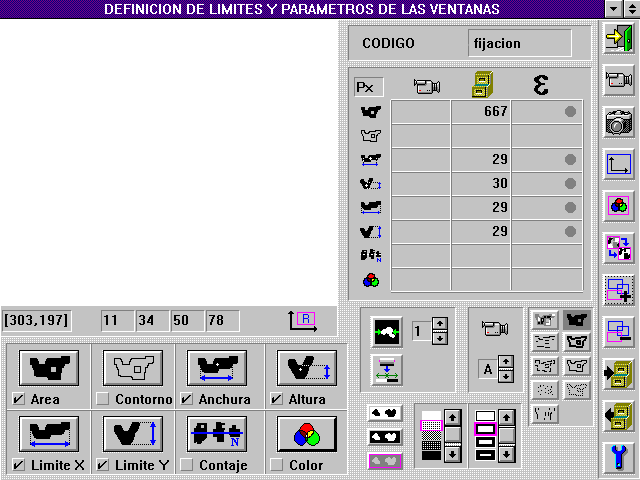 Inspection in Production Lines
The use of computer vision techniques in carrying out inspection tasks has the advantage of using one remote sensor (camera) that requires no physical contact with the object to be scanned. Additionally, they can achieve operating speeds and better reliability than conventional systems.
The main features of VISIOMAPS system are:
Easy programming, no need of computer skills.
Flexibility to adapt to different environments.
High speed operation through the implementation of parallel processing.
Low cost & low maintenance.
Operation Mode
The VISIOMAPS system is oriented to perform two kinds of inspection tasks:
Quantitative Inspection: Obtaining measures (areas, lengths, perimeters, distances, etc.), counts and orientation angles.
Qualitative Inspection: Verification of the successful task completion such as assembly, bottling, labeling, packaging, etc.
The digital image processing has numerous applications at industrial level: safety, quality control, process automation, obtaining quantitative / qualitative information, etc.
Maps have the privilege of being one of the pioneers in the application of computer vision techniques in industrial applications in Spain. In 1984 Maps designed and manufactured the first microcontroller system for capturing and processing images. This was followed by specific cards own designs and software for the i386 architecture PC.
Maps currently offers its know-how on two core product lines:
SLAMMAps. ANPR or Automatic Number Plate Reader System.
VISIOMAPS. Industrial inspection system using computer vision.
Technical characteristics of the inspection system
The system comprises the following elements:
Camera to capture images.
Control computer.
The interface with the environment is via I/O card.
Software processing with the possibility of parallel processing to increase the response speed. The system can operate with images at high speed, as required by the vast majority of industrial applications.
The VISIOMAPS inspection system has the following characteristics:
Automatic detection and synchronization with the workpiece or external sync.
Processing of Gray (256 levels), binary or contours images.
Color discrimination.
Processing time: depending on the number of parameters to consider and windows (typical times between 80ms/piece and 200ms/piece).
Ability to define windows of fixed coordinates on the image, or windows that are positioned and automatically follow the object (tracking).
Simulation test to validate strategies and get the processing times for each test.
Easy debugging in developing tasks.
Main Customers
Flamagas
Enher (Dams Movement)
Fibras Cortauds
Braun (Home Appliances)
Pendelastica (Automotive)
Simpson (Automotive)
Ayuntamiento de Barcelona (Traffic)
Santiberi (Food Industry)
Universitat Politécnica de Catalunya
Vitri (Metallurgical, circular geometry)
Industrias Torras (slaughterhouses)
ACESA (Automatic Number Plate Reader)
Tecsidel (Automatic Number Plate Reader)
Tecsidel (Estimated length of queues at toll)