SLAM (ANPR)

AUTOMATIC

NUMBER PLATE READER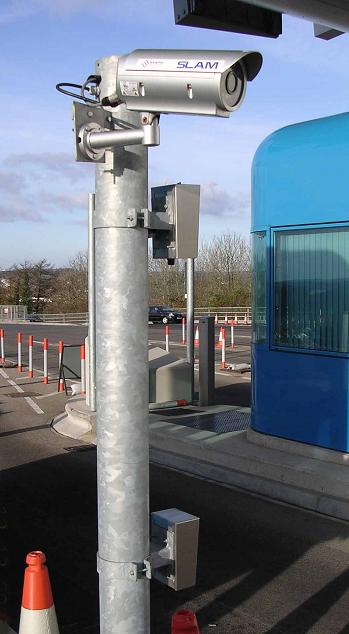 License Plate Reading System
MAPS has been working for more than 20 years in computer vision industrial projects, being a engineering company pioneer in this field. As a result of this know-how MAPS develops and provides since 2001 the SLAM system which includes all the necessary elements for the Automatic License Plate reading:
High performance camerasCámaras de altas prestaciones to capture images of the license plates, progressive capture to obtain sharp moving images, digital technology with higher noise immunity, and an integrated infrared focus in the housing, IP55 to work outdoors, etc.
Digital Reading System (OCR) to read to read the digits of the license plate and save them in text format along with the corresponding images.

Data Base Processingto handle the captured information, text, images, location, frequency, etc.

The system is equipped with the latest technology, which allows its use with vehicles at high speed in both directions. It has some immunity to environmental changes, such as sunlight, thanks to the integrated infrared light. Infrared light works in flash mode to extend its life, and it is completely invisible by drivers.

This system allows multiple applications such as:

Measurement of traffic density in tolls, roads, etc.
Identification for access control, violations, etc.
Antifraud system combining the license plate on each ticket.
Statistical analysis.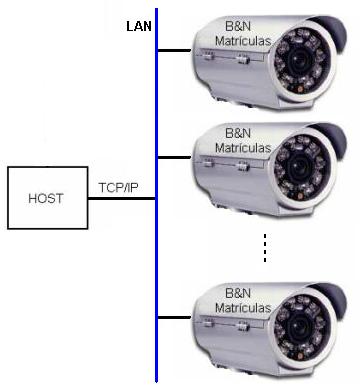 System structure
The system architecture can be adapted to the needs of each specific application:
In Free-Flow applications you need to capture and process the images of the vehicles in real time. For such cases cameras with on board processor can be used (also called Compact cameras or All-in-one systems). Images are sent, through the ethernet connection, to the central host, which manages de database.
In applications with several cameras, the server can control from 4 to 8 cameras.
The processors support image capture synchronization signals by Ethernet.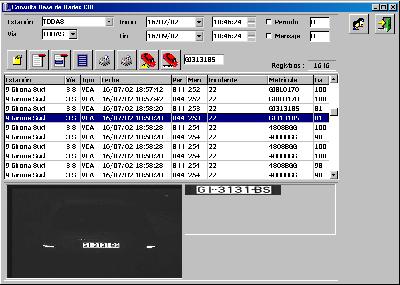 Technical Specifications of the SLAM System (ANPR)
Reads all license plates regardless of position, color, character type and nationality (in Europe).
Day and night operation (IR lighting integrated Flash).
Reading plates of moving or static vehicles.
Fast Recognition (t & lt; 0.5 sec.).
camera orientation +/- 15 degrees to the plane of the plate.
Working Temperature: -5°C to 45°C.
Power: 90VAC-260VAC.
Reading rate: 95%.
Modular and scalable system.
Compact design, easy to install.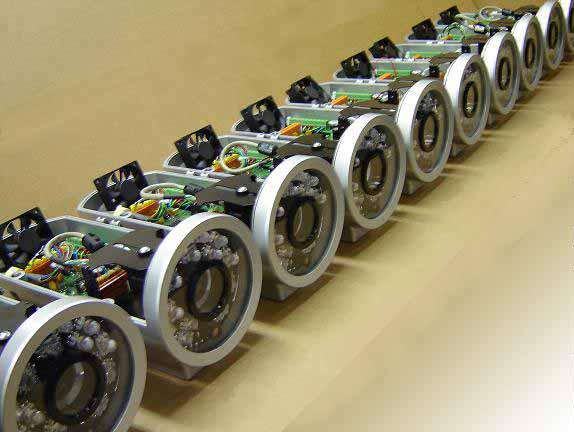 Camera Model
DBP-R03C03
Progressive B&N Camera for license plate reading in car parks.
DBP-R07C03
Progressive B&N Camera for license plate reading, High performance: tolls, free-flow, etc.
DBPc-R07C03
Compact Progressive Camera, CPU on board (All-in-one) for license plate reading, High performance: tolls, free-flow, etc.
DCP-R07C03
Color Camera to capture environment images.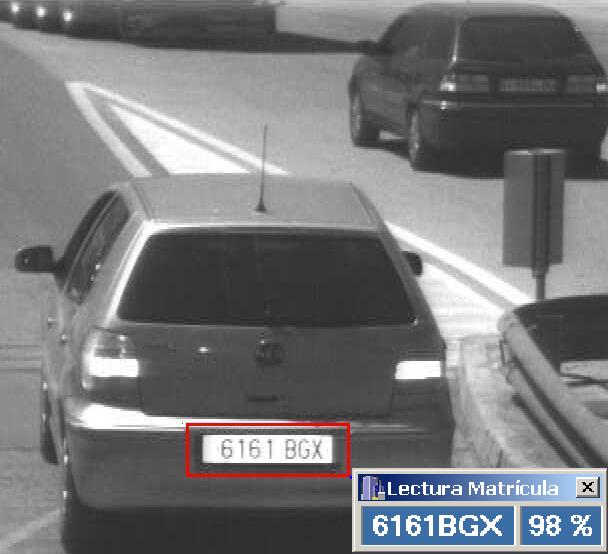 SLAM Installations

Spain
Ireland
United Kingdom
Accessories
Function
Model
Specifications

Hub / Converter

RS232C / Ethernet

Digital I/O / Ethernet

CFL3816
Ethernet / USB Controller: MAPS CFL3816 ethernet controller allows to control and monitorize field electronic equipment remotely via Ethernet or USB. Remote devices can be connected to the hub CFL3816 throught Digital I/O or its RS232Cx3 serial channels. Thus field devices, regardless of their interface, can be controlled or monitorized remotely from the office or from other computers / smartphones that have Ethernet / USB communication facilities.
PHOTOCELL (IP54)
M138x
Throughbeam Photocell: Photocell MAPS-138x consists of two modules, one transmitter and one receiver which operate using a modulated beam of infrared light pulse, it works from 1m to 15m, in any ambient lighting, even sunlight, without any previous setting.
PHOTOCELL FOR MOVING DIRECTION (IP54)
FTC2R
Double Throughbeam photocell: Photocell MAPS FTC2R has two infrared beams to detect objects and direction of movement. High speed (Tr = 8ms). Consists of an infrared transmitter module and a receiver. The receiver module incorporates a microprocessor to discriminate the direction of the object when it crosses the IR beam.

VEHICLE DETECTION & CLASSIFICATION




OPTICAL BARRIER

CFxx
Optical Barrier (photoelectric curtain): The family of photoelectric curtains MAPS CFxx detects and classifies vehicles in tolls and access to facilities. By a double infrared beam can separate vehicles at both high speed and caravan with an error rate of 1/10000. The technology used can also get the number of vehicle axles, the height profile, distinguish vehicles with trailers, motorcycles, etc.

VEHICLE DETECTION




Inductive loop Controller

CB1PR
Inductive Loop Controller, for vehicle detection: CB1PR vehicles detector is reliable, robust, economical and easy to install. Detects the presence or transit of vehicles passing over inductive loops buried in the pavement.