CT70-850 / RF50-1000

Automatic barrier

to access vehicles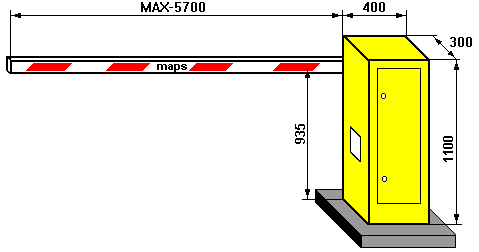 Automatic Barrier for Vehicle's Access
Designed and manufactured by MAPS, the automatic barriers are used in all kind of applications where it is required to control the heavy traffic of vehicles:
Business security
Public and private parking facilities
Gas stations
Construction, Public works, etc.
Supermarkets, shopping malls, etc.
Campsites
Sea ports
The automatic barrier CT70-850 is robust and easy to install. Maps Industrial Informàticca adds a new product to its line of of traffic's control and management equipment.

Automatic barriers for vehicles access
Design
This barrier has been designed by our Department of R&D, taking advantage of our long experience, as a company established in 1970, in the industrial automation field. It's capable of working 24 hours/day and 365 days a year, under the hardest and adverse work conditions. Their construction features make it ideal for either indoor and outdoor work.
At the technological forefront
The use of low maintenance materials and a simple but effective mechanical design, provide unique benefits in terms of opening speed, maintenance and life expectance of our barriers.
Flexibility
The automatic barrier admits masts of any length, up to 5.7 meters. The microprocessor controlled RF50 model supports different speed configurations for both opening and closing. The diferent accessories, produced by MAPS, permit to control the access of vehicles in the safest and most ergonomic way for both the user and the owner of the installation. Accessories:
Vehicle detectors (inductive, magnetic, ultrasound, photocells, etc).
Photoelectric curtain to separate vehicles (counting, classification, direction, number of axles, height, etc).
Centralized control (flow calculation, state monitoring, databases, etc).
Plate recognition: organized by date and time.
Mast length
Two different versions differing in control aspects, admitting masts of a length up to 5.7 meters.
Speed
The CT70-850 model makes the complet movement in 1.5 seconds and the RF50-1000 model makes it in only 0.6 seconds (when equipped with masts of 3 meters).
Price / Quality
Factors such as a simple but robust mechanism, the use of standard materials, and a high satisfaction index from our clients, allows us to offer our manual barriers with full guarantee. Maps offers an economic solution, specially when compared with similar devices available in the market. The use of anti-corrosive materials and treatments, and the use of standard high quality components, guarantees of long life of the equipment.
Security
All automatic barriers produced by MAPS are equiped with a photoelectric cell, that ensures a non-contact reversion of the movement of the mast when a vehicle or person is in its path.
Surface treatment
The anti-corrosion treatment of the equipment has been designed to withstand the most adverse weather conditions.
Mechanical Parts:
Treated with a yellow bichromated zinc plating of 10um.
Frame:
Zinc phosphating of 5 microns.
Electrocoating treatment, cathodic procedure, thickness 20um.
Polyester coating, thickness 40um.
Color Standard: RAL 1021 (yellow).
Options
Lever for manual operation in case of power failure.
Electronic device for operating the barrier in case of power failure.
Mast fixed with nylon screws to prevent damages in cases of impact.
Custom color (RAL).
Technical Specifications
CT70-850
RF50-1000
Supply Voltage
Three-phase 380VAC/220VAC, 50-60 Hz
Single-phase 220VAC, 50-60 Hz
Electric Motor
Synchronous three-phase
Motor Power
0,25hp
Motor rotation speed
850 rpm
1000 rpm
Available torque
-
-
Internal Control
Relays
Microprocessor
Acceleration/Deceleration
Cams control
Adjustable time interval
Magnetotermic protection
Yes, adjustable
Temperature range
[-20ºC, 75ºC]
[-20ºC, 70ºC]
Weight
45Kg
50Kg
Opening/closing speed
1,5s
0,6s
Mast length
Up to 5,7m
Frame anti-corrosion treatment
Cataphoresis
Mechanism anti-corrosion treatment
Electrolytic bath (zinc-plated)
Paint
Polyester RAL 1021
Protection degree
IP-44
Ventilation
Grid (convection)
Maintenance
Very low
Emergency stop
Photocell
Opening/closing control
Potential free contact
Mechanical endurance (MCBF) (with maintenance)
5,000,000 cycles
| | | |
| --- | --- | --- |
| Commercial terms | CT70-850 | RF50-1000 |
| Minimum quantity | 2 units | 2 units |
| Average delivery time | 4 weeks | 4 weeks |
| Exworks price(VAT not incl.) | Ask | Ask |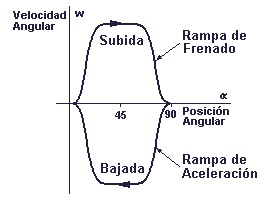 Main customers
TECSIDEL (Brazil highways)
TECSIDEL (Tunel Envalira, Andorra)
IDIADA (Car test facility for car manufacturers)
SUMINISTROS CASTRO-PEDRAFITA (La Coruña)
Small facilities (Hotels, Gas stations, Supermarkets, Car parks, etc)
Function
Model
Specifications
MANUAL BARRIER for VEHICLE ACCESS
BM-80
Manual barrier, for vehicle access: Low cost barrier is designed to work outdoors in the harshest and adverse working conditions. Manual operation without electricity.

VEHICLE DETECTION




Inductive loop Controller

CB1PR
Inductive Loop Controller, for vehicle detection: CB1PR vehicles detector is reliable, robust, economical and easy to install. Detects the presence or transit of vehicles passing over inductive loops buried in the pavement.
PHOTOCELL (IP54)
M138x
Throughbeam Photocell: Photocell MAPS-138x consists of two modules, one transmitter and one receiver which operate using a modulated beam of infrared light pulse, it works from 1m to 15m, in any ambient lighting, even sunlight, without any previous setting.

Hub / Converter

RS232C / Ethernet

Digital I/O / Ethernet

CFL3816
Ethernet / USB Controller: MAPS CFL3816 ethernet controller allows to control and monitorize field electronic equipment remotely via Ethernet or USB. Remote devices can be connected to the hub CFL3816 throught Digital I/O or its RS232Cx3 serial channels. Thus field devices, regardless of their interface, can be controlled or monitorized remotely from the office or from other computers / smartphones that have Ethernet / USB communication facilities.

VEHICLE DETECTION & CLASSIFICATION




OPTICAL BARRIER

CFxx
Optical Barrier (photoelectric curtain): The family of photoelectric curtains MAPS CFxx detects and classifies vehicles in tolls and access to facilities. By a double infrared beam can separate vehicles at both high speed and caravan with an error rate of 1/10000. The technology used can also get the number of vehicle axles, the height profile, distinguish vehicles with trailers, motorcycles, etc.